Currencies:
The USD has seen a nice push up over the last few days. Friday was a strong day, off the back of another positive NFP release. EUR/USD has pushed down 120 pips since Friday off the back of this dollar strength.  
Here is a segment taken from Wells Fargo's view on the July NFP Report: 
"The better-than-expected July report is certainly a step in the direction of "substantial further progress" that the Fed is looking for. Through July about 75% of the jobs lost during lockdowns last year have been added back, but there remain 5.7M fewer jobs compared to February 2020 (see chart). At the same time, labour force participation has barely budged since the economy's broad reopening this spring." 
Upcoming fundamental releases we have are: 
Wednesday, August 11th 
EUR, Harmonized Index Consumer Prices (YoY)

 

USD, Consumer Price Index Ex Food (YoY)

 

USD, Consumer Price Index Ex Food (MoM)

 
Thursday, August 12th 
GBP, Gross Domestic Product (QoQ) (Q2)

 
Make sure you pay attention to the @bsappsfxltd Instagram page, as this will provide you with the upcoming fundamental releases at the beginning of the week as well as other valuable information and insights! 
Cryptocurrencies:
The Cryptocurrency market is starting to see a nice push up over the last couple of weeks. Since the Q2 'crash', cryptocurrencies had just been consolidating. We are now seeing breakouts across the board – we are keeping a close eye on all of these, as the BSAPPSFX strategy does work well on cryptocurrencies. Over the last 2 weeks, Ethereum has seen an 87% gain – could this be the start of the next wave up? 
RECAP – Potential Set Ups: CAD/CHF
CADCHF- 4HR Chart (Posted on 02/08)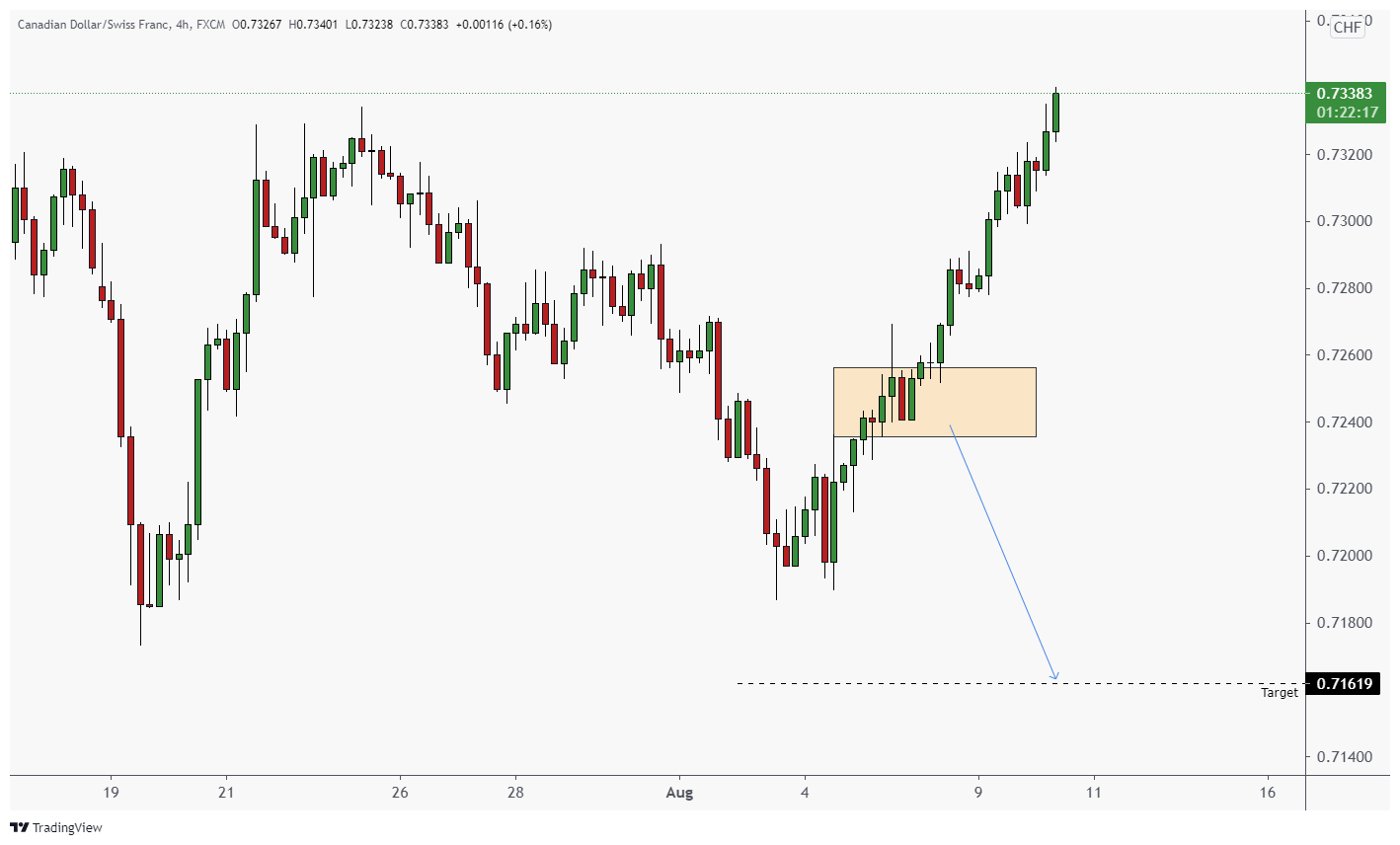 Last week we were watching CAD/CHF for a short position. Unfortunately, we failed to react nicely from the AOI and continued to push up. This is the reason why risk management is crucial, keep our losers small and our winners big (such as the trades shared in previous blogs
: AUDJPY, GBPNZD, USDCHF, EURAUD, AUDCAD and more!)
Traders Tips: Streamline Your Journaling Process
Journaling is arguably one of the most important processes each trader must do. It provides you with the 'history' of your own actions; including both the good and the bad. However, it is alarming how many people don't think about what they are journaling – and instead do it because 'they have heard traders should do it'. A large majority of people don't even reflect on the information collected either. This blog post won't go over specific methods of journaling, as these are included and explained massively within the BSAPPSFX Advanced Course.
Over the last couple of years, streamlining my journaling process was key in order to be working as efficiently as possible. Throughout my 1-1 calls with members I have seen loads of examples of peoples journaling. Off the back of these calls, I have found that a lot of people don't ask themselves this question when embarking on their journaling process:
'What am I trying to achieve from this process?' 
Most people may not be able to answer this, but this is the best way to streamline your process. Working backwards ensures you are acting as efficiently as possible.  
For some people, their technicals are really good but their psychology isn't. If this is the case, then the logical aim for your journaling is to target your psychology to really drill deep into finding out why you act and behave the way you do in certain scenarios. This can be done by formulating questions to ask yourself after each trade, and after a few trades you will begin to see patterns emerging. You should still journal your technicals as well but dedicate more time and energy to the psychology section. 
If you are trying to merely streamline your technicals, then data collection should be the focus, so you can look at your trading from a statistical point of view. 
If you are unsure on what element needs working on, then collecting a spread of information is necessary for us to find this out. However, I am sure most of us do know the general area where we fall down within our trading.
It all starts with questioning why you are doing something. There's no point spending hours journaling certain areas if you are never utilising the information you are collecting.  This question is highly relevant to other areas of life, questioning why you are doing something allows you to see if you are dedicating energy to the things that really matter.
For any members wanting to streamline their journaling process, feel free to message me on telegram to schedule a 1-1 call! @ayjannaty 
Written by Aqil – Senior Analyst