Currencies:
As mentioned in last weeks blog. The USD has been ranging for some time, but we were leaning to more upside.  We have now seen the dollar start to make its move up.  However, we do need to be weary that we are coming up to certain levels where we could bounce from and see some sort of reaction.  
(Advanced group members are aware of what to be watching – if you are on the Advanced course and you are wanting to get involved then send @bsapps a message on telegram at the end of the month, in time for the enrolment on the 1st of the month.) 
Due to the dollar making its move up, we have seen pairs such as EUR/USD make its move down. BSAPPSFX students are aware that we will be looking for any valid pullback in line with our strategy to take this short. 
We do need to be weary that tonight and tomorrow we do have high impact fundamentals with the dollar, such as FOMC and Retail sales. This could cause the picture on the dollar to change so we will be keeping a close eye on these.
We also have high impact fundamentals for most of the currencies this week – this could cause some volatility so trade with caution. 
Upcoming fundamental releases we have are: 
Tuesday 15th June 
GBP, BoE's Governor Bailey speech

 

USD, Retail Sales Control Group (May)

 

USD, Retail Sales (MoM) (May)

 
Wednesday 16th June 
GBP, Consumer Price Index (YoY) (May)

 

EUR, ECB's De Guindos speech

 

CAD, BoC Consumer Price Index Core (YoY) (May)

 
USD, FOMC Economic Projections

 

USD, Fed Interest Rate Decision

 

USD, Fed's Monetary Policy Statement

 

CAD, BoC's Governor Macklem speech

 

NZD, Gross Domestic Product (YoY) (Q1)

 

NZD, Gross Domestic Product (QoQ) (Q1)

 
Thursday 17th June  
AUD, RBA's Governor Lowe speech

 

AUD, Employment Change s.a. (May)

 

AUD, Unemployment Rate s.a. (May)

 

CHF, SNB Interest Rate Decision

 

CHF, SNB Monetary Policy Assessment

 

CHF, SNB Press Conference

 
Make sure you pay attention to the @bsappsfxltd Instagram page, as this will provide you with the upcoming fundamental releases at the beginning of the week as well as other valuable information and insights! 
Commodities:
In the Q2_Week_20 blog post, it was mentioned that we were going to wait for a deeper pullback on GOLD. We are now seeing that pullback happen, this makes sense now that we are starting to see some dollar strength. We will be watching this closely in the coming weeks 
Potential Set Ups: GBP/NZD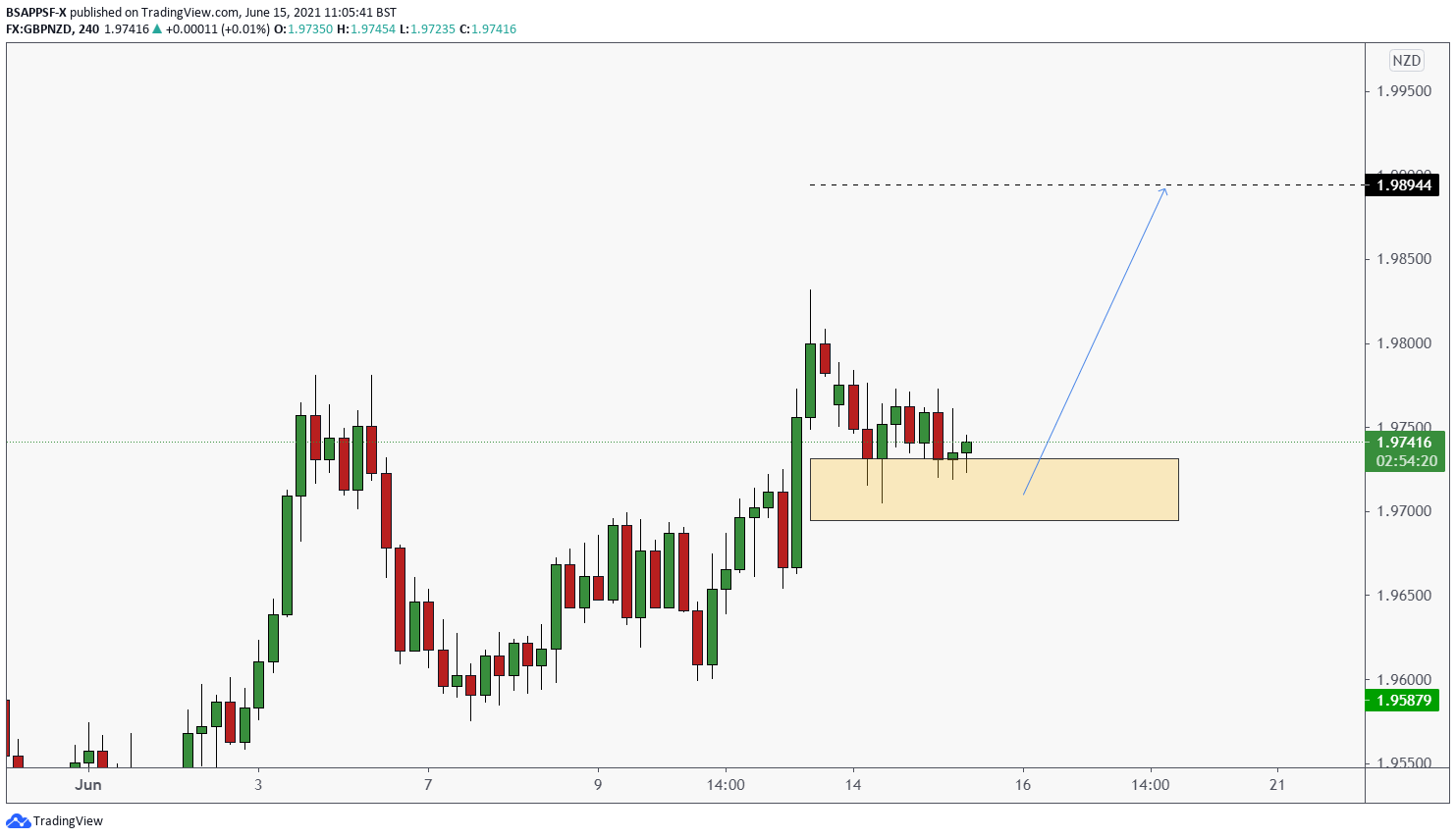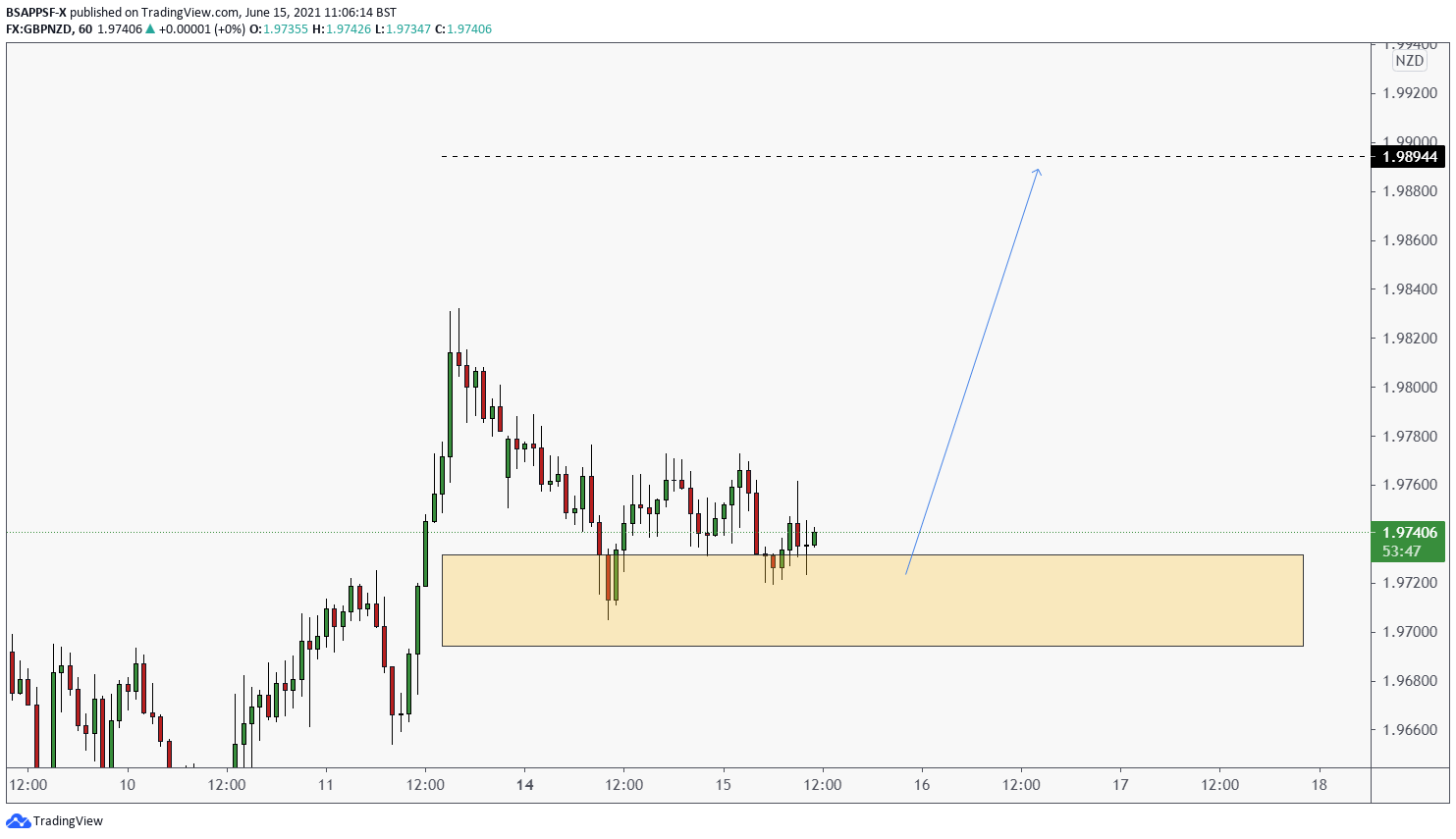 We are watching GBP/NZD for a long position. We are looking to target 1.98944.
Written by Aqil – Head Analyst