Currencies:
The dollar has consolidated over the last few days. Tonight we have the FOMC release, so we will keep an eye on this to see if we can get a breakout on the dollar. We are still massively bullish on the dollar, but when price action consolidates then we need to be ready for both scenarios.  
Last week we had NFP come out. The Forecast was 500K but the actual release was only 194K. This was a weak release for the dollar. Despite this, the dollar is still bullish, and the release did not move the market too much.
AUD has been the biggest mover this week, we have seen a massive push up across the board, with pairs such as EURAUD falling 520 pips in the last 2 weeks and GBPAUD falling 330 pips over the last 6 days. Both of these moves were anticipated in our Advanced Paid group, so if you have the Advanced course then message the team at the end of the month to be enrolled in this! We are anticipating for this to continue in the near future but we may start to see AUD pullbacks across the board before we have the next leg down. 
Upcoming fundamental releases we have are: 
Wednesday, October 13th 
USD, Consumer Price Index ex Food & Energy (MoM)(Sep)  

 

USD, Consumer Price Index ex Food & Energy (YoY)(Sep)  

 

USD, FOMC Minutes  

 
Thursday, October 14th 
AUD, Employment Change s.a.(Sep)

 

AUD, Unemployment Rate s.a.(Sep)

 

CNY, Consumer Price Index (YoY)(Sep)

 
Friday, October 15th 
EUR, European Council Meeting

 
Cryptocurrencies:
For people involved in the NFT space, there is some exciting news that Coinbase will be launching an NFT marketplace. This is massive for the NFT space, with billions flowing into the market right now – Coinbase has a much bigger customer base than OpenSea and may be a catalyst to push the market even more by allowing normal people to buy and sell digital artwork.  
Coinbase has limited details to share on its upcoming platform, but notes in a blog post that they hope to more deeply integrate social features into the platform. "Coinbase NFT will make minting, purchasing, showcasing, and discovering NFTs easier than ever. We're making NFTs more accessible by building intuitive interfaces that put the complexity behind the scenes. We're adding social features that open new avenues for conversation & discovery." 
The NFT space can be confusing, however previous technologies were also misunderstood until later on, such as the internet. I expect that over the next few years, NFT intergration would be more widely available for the masses with more understanding on how it can work within our everyday lives.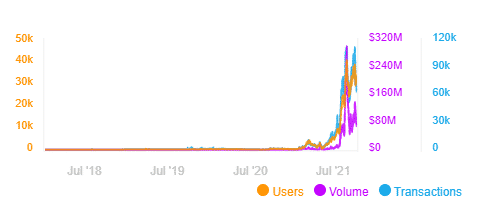 OpenSea's trading volume (REF: dappradar.com)
Written by Aqil – Head Analyst