Currencies:
The Dollar has seen a strong push up this week, but we are anticipating a pullback from these levels. GBP/USD has hit a low 1.36, a 300 pip decline since hitting a high of 1.39 – 10 days ago. Although we are anticipating a pullback, for continued USD strength afterwards, we still need to push a little more before the bullish play is confirmed.  
FOMC moved the markets yesterday, causing a spikes across the board. The US Federal Reserve's updated Summary of Economic Projections revealed on Wednesday that half of the policymakers see a lift-off in the fed funds rate in 2022, compared to seven policymakers in June's publication. 
Earlier today the Bank of England's (BoE) Monetary Policy Committee (MPC) released that they decided to leave the benchmark interest rate unchanged at 0.10% and kept the Asset Purchase Facility steady at £895 billion at the end of September policy meeting, as was widely expected. This has caused GBP strength to come into the market, after a week of taking a beating. We will have to monitor the £ pairs to see how they settle once the market digests this news. 
Upcoming fundamental releases we have are: 
Thursday, September 23rd 
CAD, Retail Sales (MoM) (Jul)
Monday, September 28th 
USD, Durable Goods (Aug)

 

USD, Nondefense Capital Goods Orders ex Aircraft (Aug)

 
Tuesday, September 29th 
JPY, BoJ Monetary Policy Meeting Minutes

 

AUD, Retail Sales s.a. (MoM) (Aug)

 
World Affairs:

The Evergrande Group Crisis
Evergrande Group Crisis
This section will aim to cover high impact world affairs which could cause moves within the market.  
Who/What is the Evergrande Group? 
Evergrande Group is one of China's largest real estate developers

 

It is the 122nd largest group in the world by revenue

 

Employing about 200,000 people and it also indirectly helps sustain more than 3.8 million jobs each year

 

They have also invested a lot into other things such as electric cars, football teams, theme parks and more

 
What has caused the 'The Evergrande Group Crisis'? 
Company has been taking loans over the last few years, and the company is finding it hard to keep up with the repayments

 

They have over $300bn of liabilities, a 6.5% market share of Chinese property market liabilities

 

A few weeks ago they told investors they had cash-flow issues, and said it could default if unable to raise capital quickly

 

Due to undertaking other capital intensive activities with aggressive ambitions it has caused a reduction in free cash-flow. Mattie Bekink, China director of the Economist Intelligence Unit stated, "strayed far from its core business, which is part of how it got into this mess."

 

Mark Williams, Capital Economics' chief Asia economist stated that "Evergrande's collapse would be the biggest test that China's financial system has faced in years." He further stated, "The root of Evergrande's troubles and those of other highly-leveraged developers is that residential property demand in China is entering an era of sustained decline. Evergrande's ongoing collapse has focused attention on the impact a wave of property developer defaults would have on China's growth."

 
 What is happening now? 
They have brought on financial advisors to find a solution. They have a total of $669 million to be paid by the end of the year alone which they must try find the cash for

 

Talks about either restructuring the company or an all out liquidation

 
Affect on the markets 
Companies stock has dropped 80% this year 

 

Hang Seng Index dropped 3.3% 

 

US Indicies fell between 1-2% across the board 

 

Cryptocurrency market cap fell 8.71%, with BTC falling 8.28%

 
Potential future consequences 
The main issue is the strain this will have on the banks in china, due to them needing their loans repayed. The ultimate consequence could be a credit-crunch scenario within China. 

 

This could be a catalyst for China to experience a economic downturn, and cause ripple affects around the world due to their influence in the global economy.

 

Louis Tse, managing director at Wealthy Securities, a Hong Kong-based brokerage stated that "Evergrande is just the tip of the iceberg." He added, "That affects the banks as well… if you have lower property prices what happens to their mortgages? It has a chain effect."

 
RECAP: Potential Set Ups: US500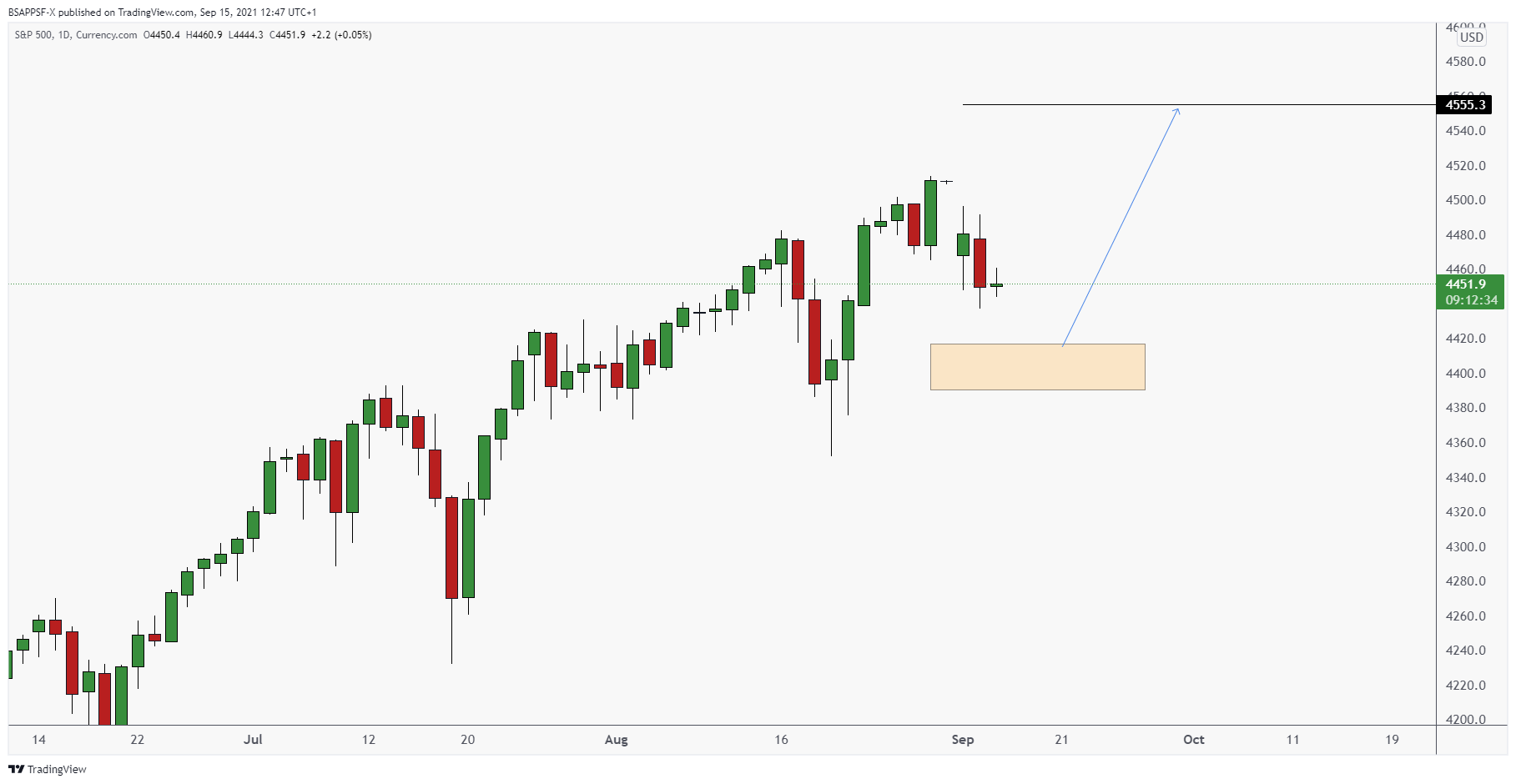 US500 – Daily (Previous blog post)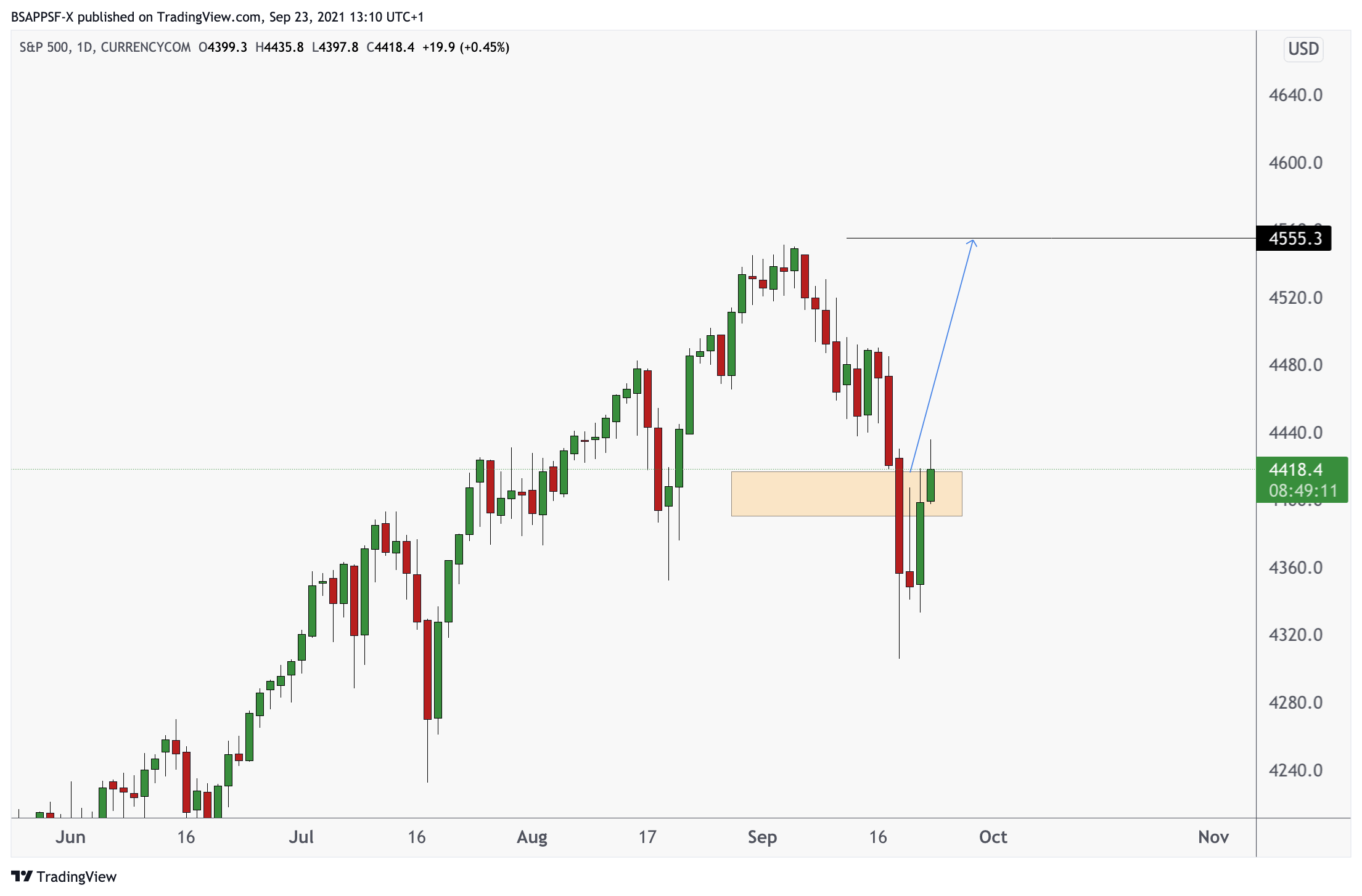 We were watching US500 for a long position, however we failed to stop and produce the price action needed to get involved and so this setup was not executed. 
Written by Aqil – Head Analyst