Currencies:
The USD has continued its pullback and has now hit our area of interest. This is a very interesting price level, and if we break this then we could see a lot more downside on the dollar. We do have some high impact fundamentals out towards the end of the week, including NFP. Hopefully this can set the tone for the bias of the dollar, where if we do invalidate the price levels we are currently at we can look for sells. However, if we respect this area of interest then we will look for continued longs.  
The JPY is also in a similar position to the dollar, where if we break the current price levels then more downside on the yen is expected. This would mean we would see breakouts to the upside on pairs such as EUR/JPY, GBP/JPY, CAD/JPY etc. 
AUD has seen a strong recovery across the board, with AUD/JPY pulling back over 300+ pips and AUD/CHF pulling back 200+ pips. For a long time AUD and being pushed down massively, but it does seem like a strong recovery from this is being seen. We will continue to monitor price action on this due to the overall trend for this is still being bearish – hence why the setup shared in this blog is a short against the AUD.  
Upcoming fundamental releases we have are: 
Wednesday, August 25th 
USD, ADP Employment Change

 

USD, ISM Manufacturing PMI (Aug)

 
 Thursday, August 26th 
AUD, Trade Balance (MoM) (Jul)

 

CHF, Gross Domestic Product s.a. (QoQ) (Q2)

 
 Friday, August 27th 
EUR, Retail Sales (YoY) (Jul)

 

USD, Nonfarm Payrolls (Aug)

 

USD, ISM Services PMI (Aug)

 
Make sure you pay attention to the @bsappsfxltd Instagram page, as this will provide you with the upcoming fundamental releases at the beginning of the week as well as other valuable information and insights!
Cryptocurrencies
Bitcoin is still struggling at the 50K mark and we have seen price consolidate for the last few days. However, we have seen a breakout when looking at the BTC/ETH chart, indicating that ETH could be the next big mover now and ALTs may also follow. There are a lot of use cases utilising the Ethereum network, with increasing popularity in a few of these. OpenSea, one of the largest marketplaces for NFT's, has hit a trading volume of $3bn in August. Considering the volume in July was $300m, this is a huge increase and may continue to push prices of ETH higher.  
If you wanted to look into what Ethereum is and how it can be used, this website is great at explaining it; https://ethereum.org/en/what-is-ethereum/
Potential Set Ups: EUR/AUD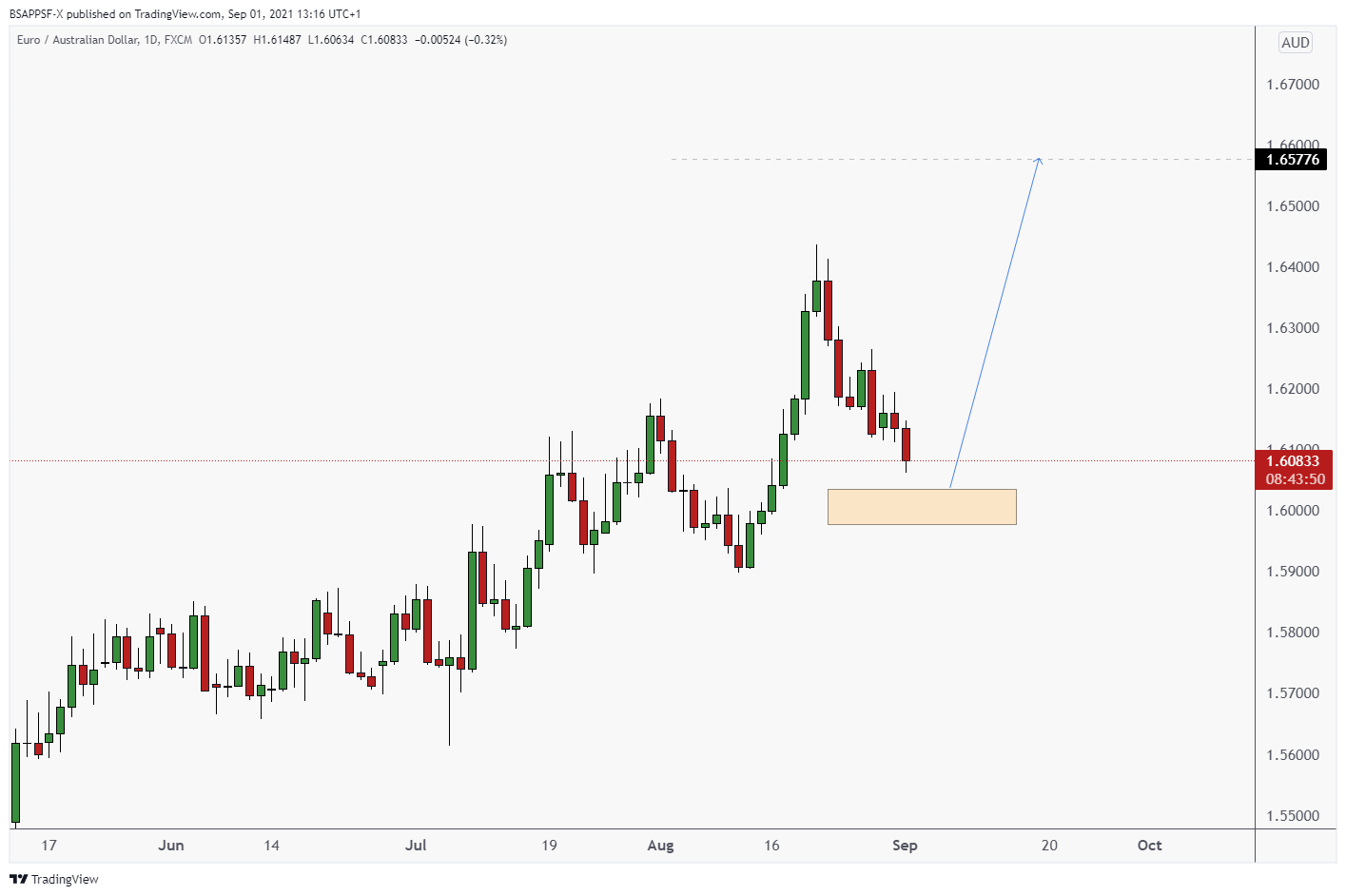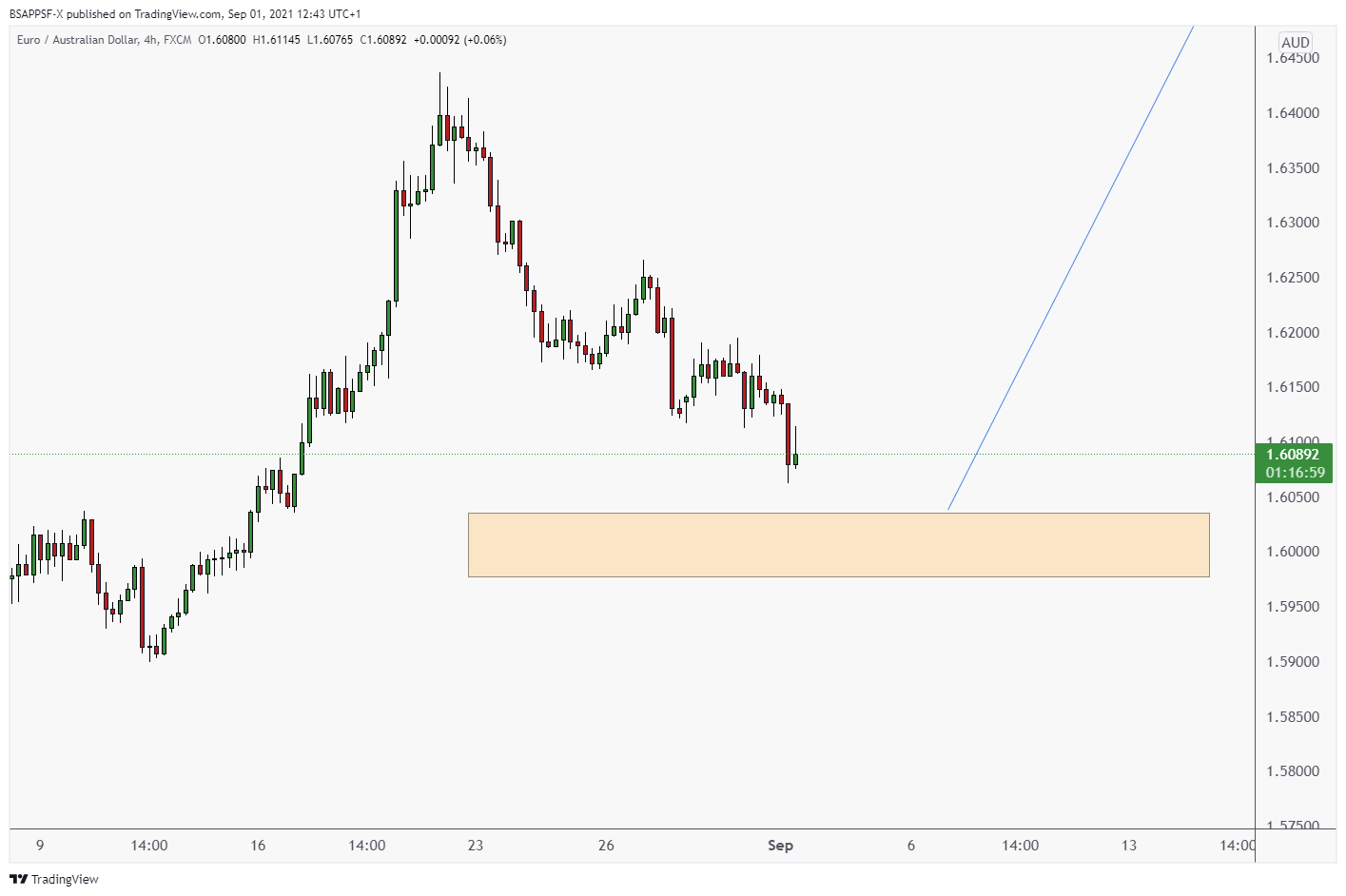 We are watching EUR/AUD for a long position. We do need to be careful with the AUD strength we are seeing right now, and therefore we will need to monitor the price action on the lower timeframe before executing this setup. If we do execute this setup, then we will be targeting 1.65776.
Written by Aqil – Head Analyst