Currencies:
The USD has continued to push up after having a pullback towards the end of last week. We are anticipating further dollar strength. However, we will be cautious because we still have room to push lower down and have a deeper pullback. We will be monitoring PA very closely. We also have FOMC tonight which may move the market, this could help the dollar pullback deeper for us to then continue the bullish trend.
Upcoming fundamental releases we have are:
Wednesday 7th July
Thursday 8th July
AUD, RBA's Governor Lowe Speech
Friday 9th July
AUD, RBA's Governor Lowe Speech
Make sure you pay attention to the @bsappsfxltd Instagram page, as this will provide you with the upcoming fundamental releases at the beginning of the week as well as other valuable information and insights!
RECAP: Potential Set Ups: AUD/JPY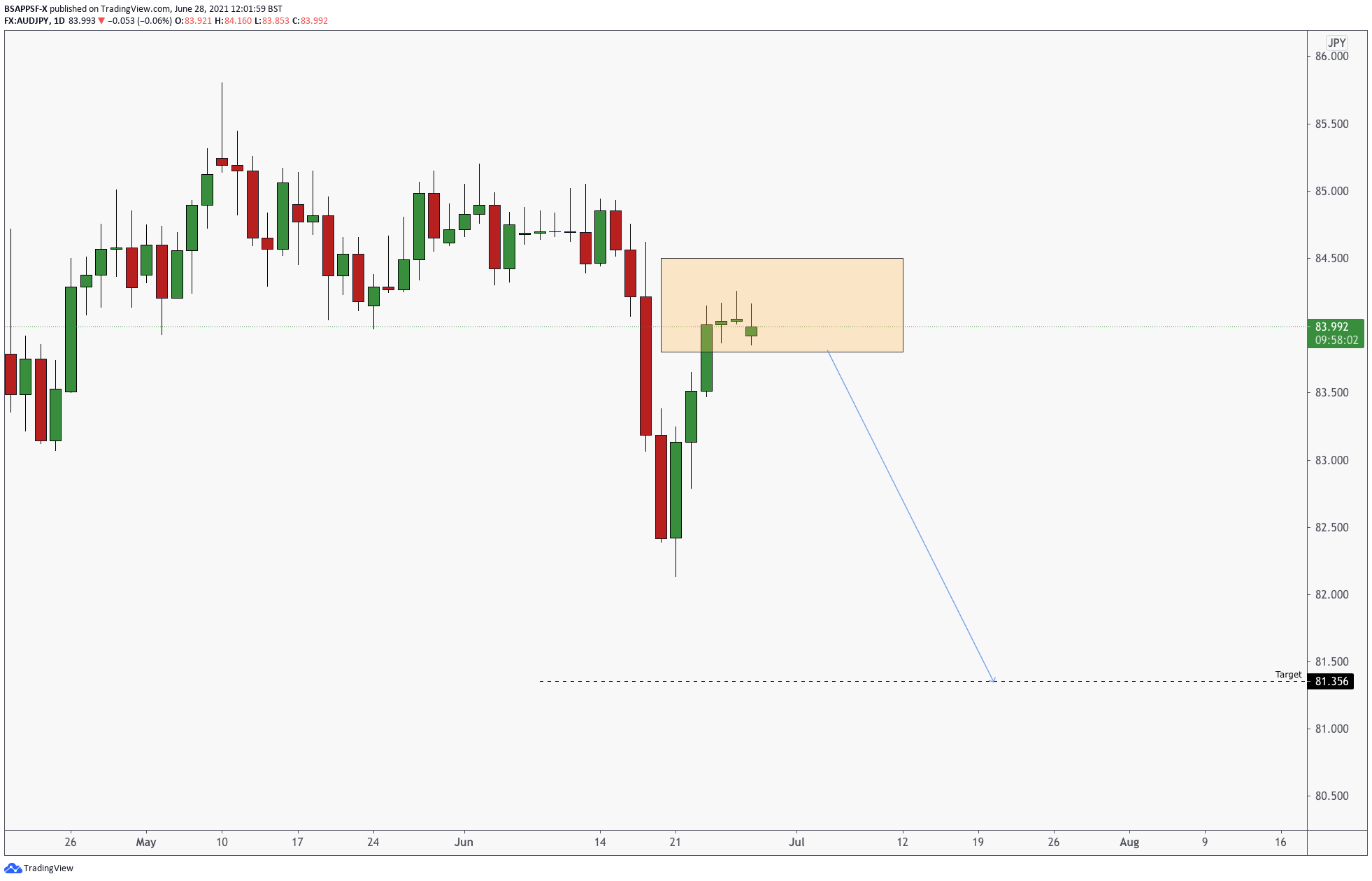 AUDJPY – Daily (Posted 28/06)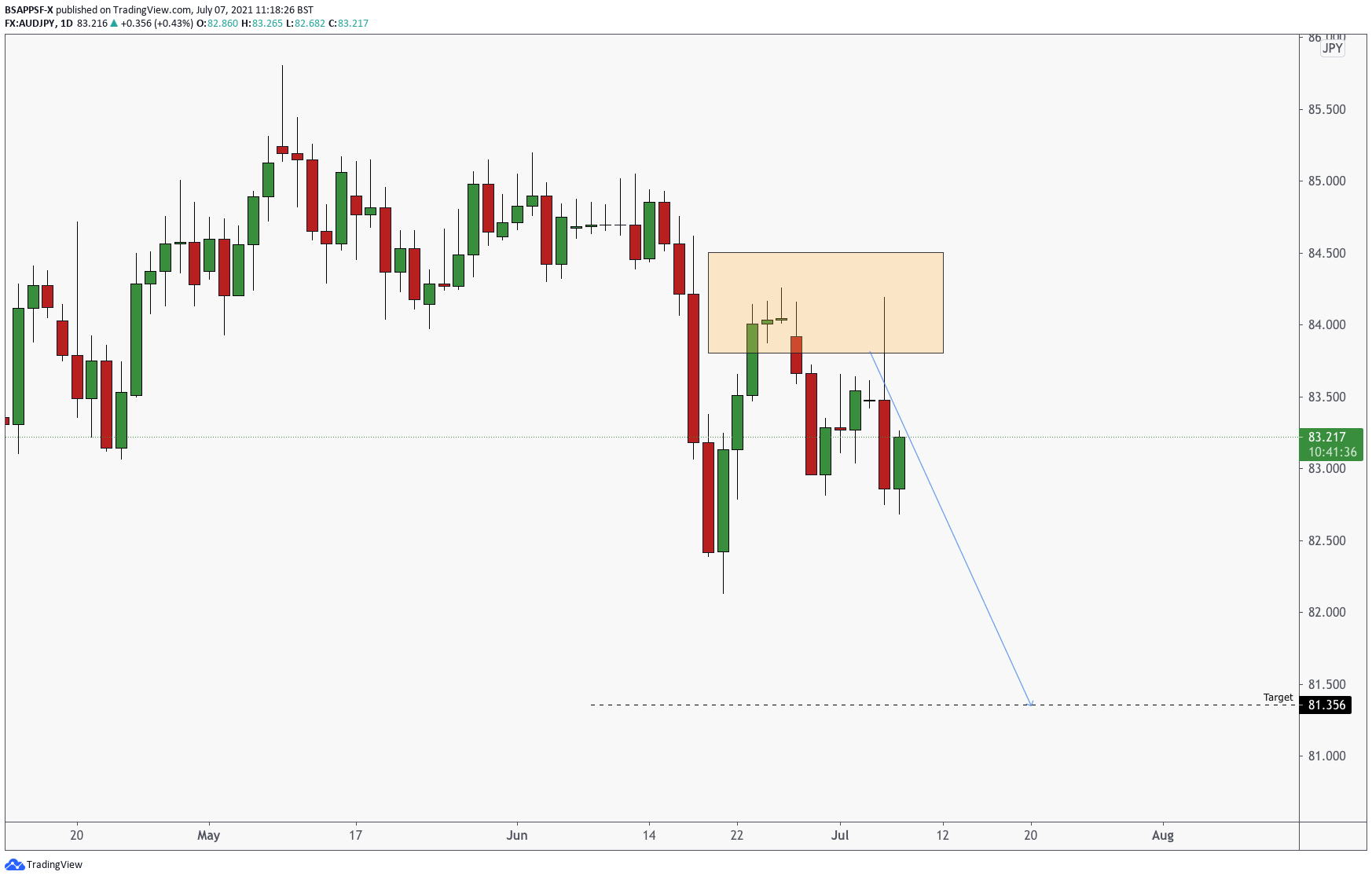 Last week we gave out a short trade on AUDJPY. Since posting, we fell 140 pips, and then we started to pullback. We did see a big wick on yesterday's daily candle due to some volatility across the board, but the setup was still valid. We are treating any pullbacks as reasons to get into more short positions, and BSAPPSFX Advanced group members are aware of what we are looking for.
Traders Tips: 'Keep It Moving'
If you want to become complacent, then live in the wins. And if you want to doubt, then live in the losses. And if you want to become successful, then 'keep it moving'.
Winning is a very weird feeling. My perspective on winning is that if I hit a goal and I become overly excited and ecstatic… then mentally I am not prepared for the win. A win could refer to anything; a trade hitting take profit, passing a funding challenge, getting funded and more.  This may sound like a weird concept, but the reason for this is because in our heads we should already think as if we have hit that goal already. In a previous post I have spoken about visualisation, and this is one way to mentally prepare for success you want to achieve – but just speaking, acting and thinking like you have hit that goal makes the goal easier to achieve. However, this results in an anticlimactic feeling when you do win – but it is necessary to be able to not 'live in the win'. This process makes it easier to 'keep it moving' after you've taken a win, and not fall into a state of complacency.
Losing is also something which can cause a big ripple effect. Taking losses is a hard thing to do. It hurts our ego, lowers our self-confidence and can cause desperation which can filter down into our decision making and compound the loss. The way to overcome this is to put processes in place to minimise the damage caused. For example, if you take a trade and risk 20% – and then cry because it didn't play out then your 'processes' did not minimise the damage. Now if you had a risk rule meaning you only risk 1%, then the damage is minimal and controlled. This makes it easier to 'keep it moving' after taking the loss.
Keeping it moving is the only way to keep the wheel of success spinning. The things spoken above isn't just relevant in trading itself, it's also applicable to other wins and losses in your life.
No matter if you have taken a win or a loss – keep it moving and set your sights on the next thing to conquer. 
Written by Aqil – Head Analyst