Currencies:
The USD has continued its push to the downside, and further downside is expected. Last week we mentioned that we were expecting upside across the XXXUSD pairs. Since posting, AUD/USD, EUR/USD, NZD/USD has pushed up around 100 pips. Tonight we do have FOMC for the dollar, this could provide us with some volatility and movement. 
EUR has been very strong recently, after having months of weakness it is nice to see us pushing up. Since the end of March, EUR/USD hit a low of 1.17041 and is currently trading at 1.20884 – a gain of nearly 400 pips! Because of this, we are anticipating further strength with the EUR across the board. However, we could be seeing pullbacks soon – but this should be treated as opportunities to continue buying. 
AUD and NZD have been pushing up, riding on the coat tails of the USD weakness we have been seeing. We are actively looking for positions to be buying AUD and NZD. BSAPPSFX Advanced Students are aware of potential setups which we are watching, especially on EUR/NZD and GBP/NZD. 
Cryptocurrencies:
BITCOIN has seen a very strong pullbacks, hitting a high of 64K and after 11 days was 27% lower – hitting a low of 47K. Although the crypto market in general is still massively bullish – we will be very cautious with BITCOIN due to changes that have occured when utilising the technical tools that BSAPPSFX use. We will wait for things to develop before looking for a position on this.  
Potential Set Ups: GBP/AUD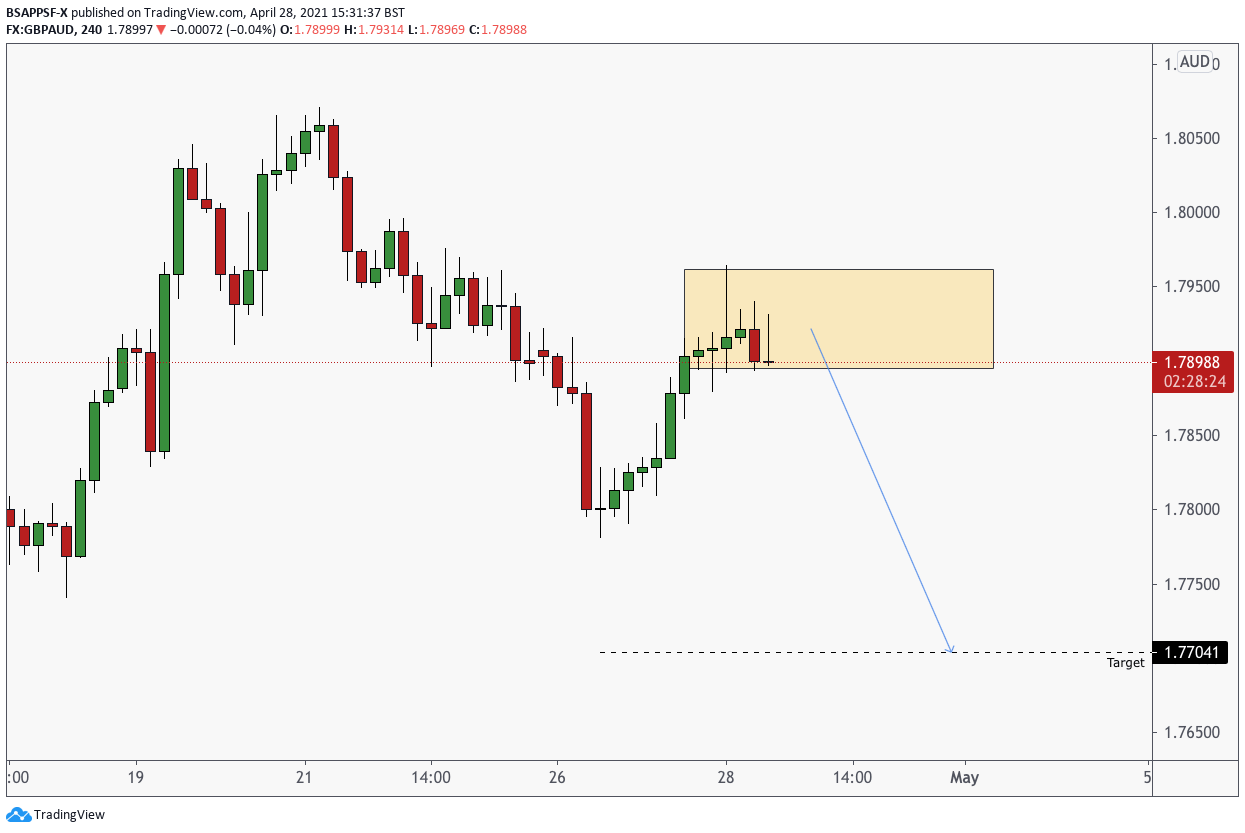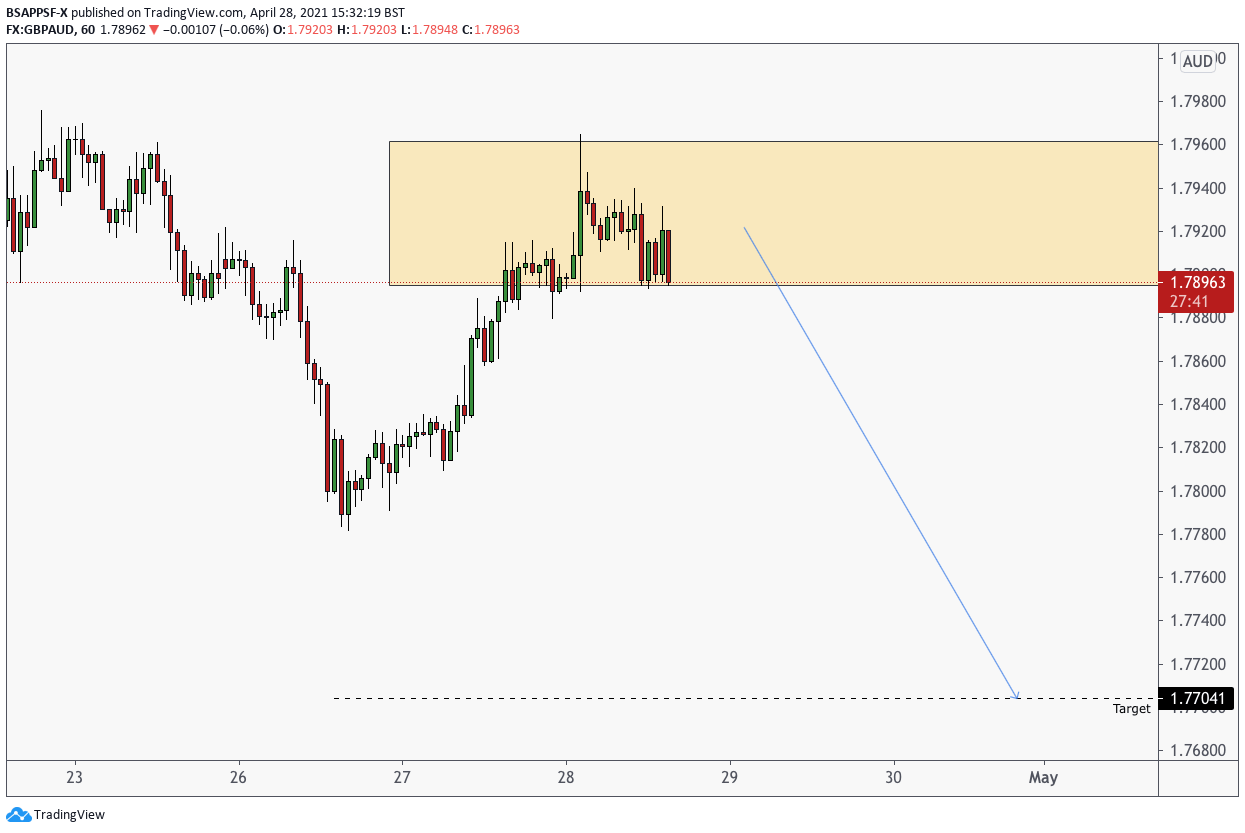 We will be watching GBP/AUD for shorts, with an area of interest from 1.79616 to 1.78950. We will be targeting 1.77041. 
RECAP – Potential Set Ups: USD/CAD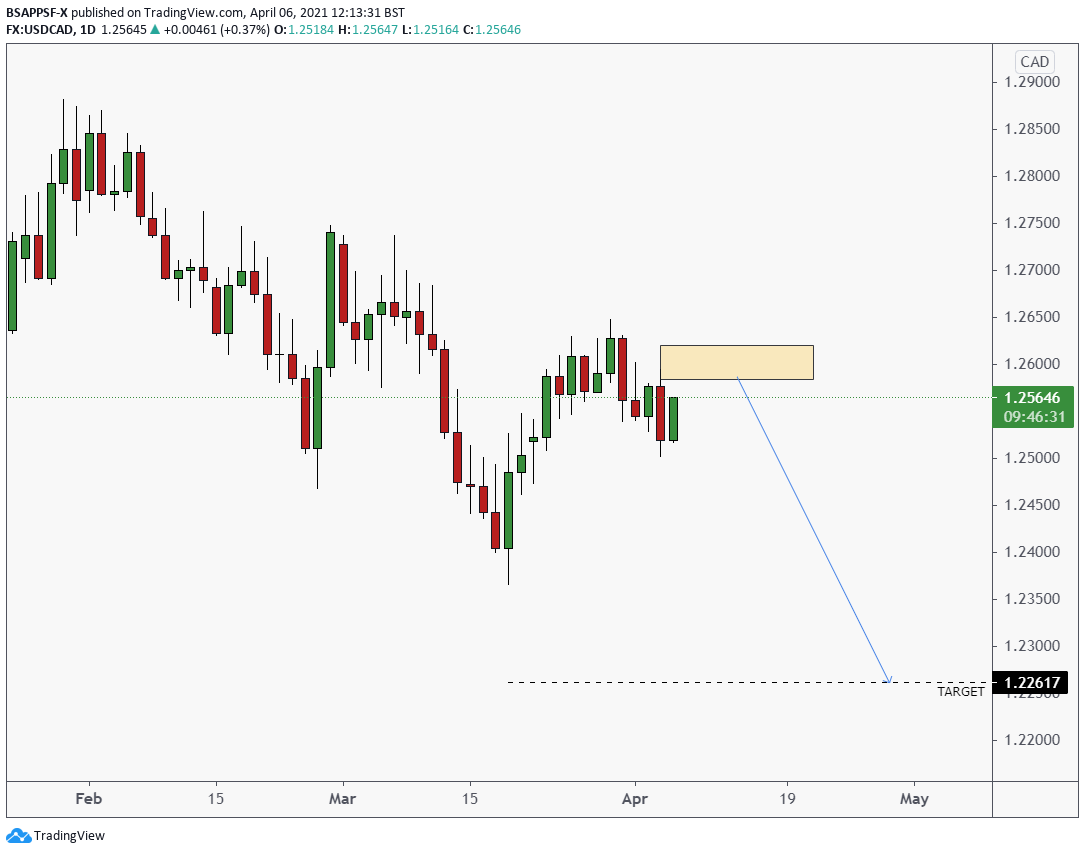 USDCAD – Daily (Posted 06/04)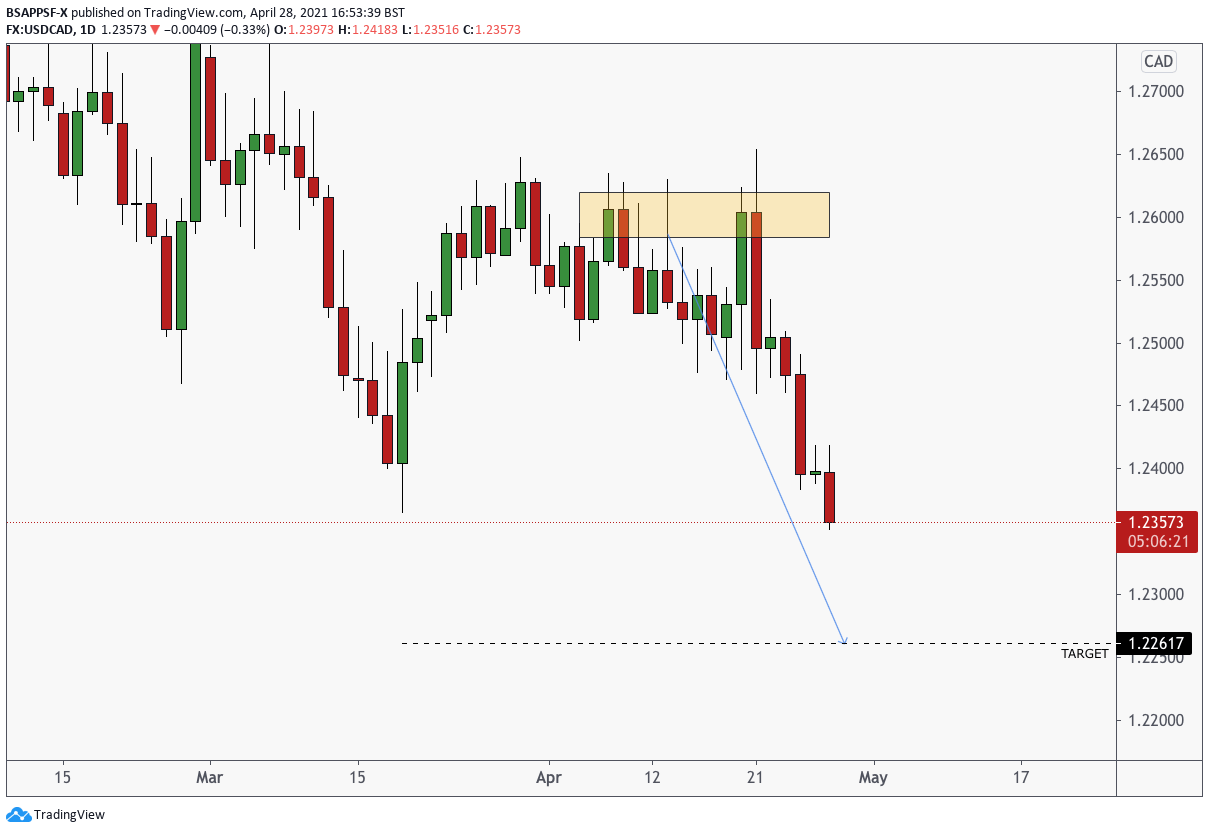 USD/CAD Setup was posted beginning of April, and after some time consolidating we have now pushed down nicely. The way we trade at BSAPPSFX means that our analysis doesn't expire after a day for example…things we post are still relevant weeks after its been posted! This trade is now floating around +230 pips!
RECAP – Potential Set Ups: EUR/CAD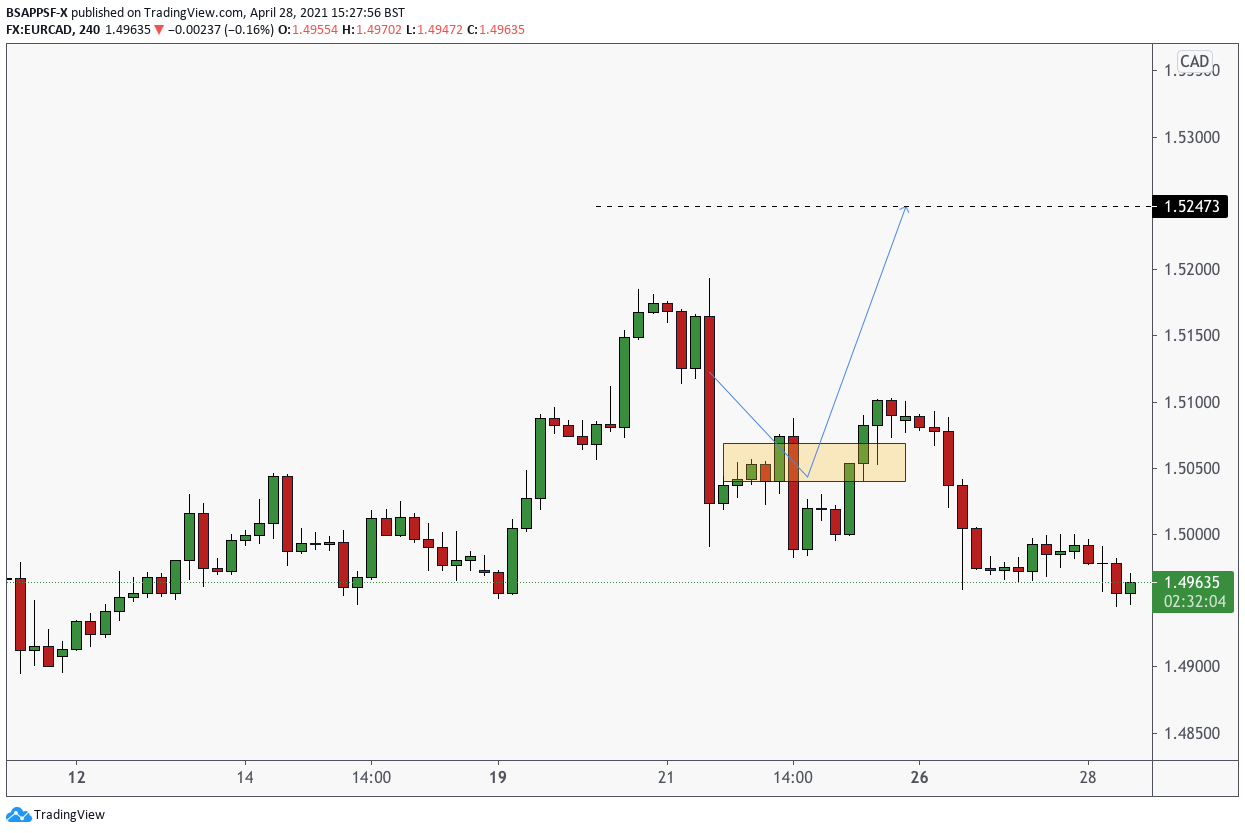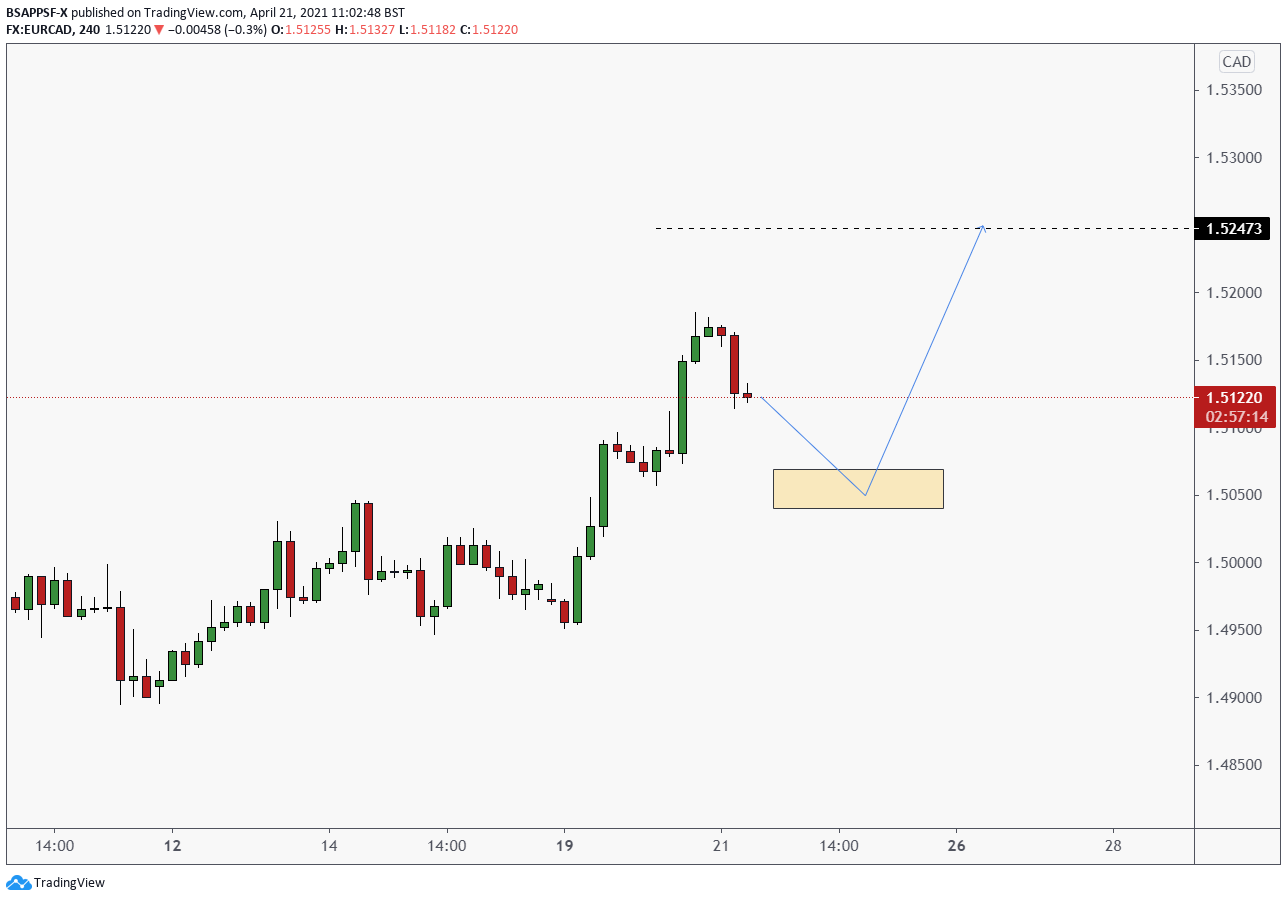 EURCAD – 4HR Chart (Posted 21/04)
Last week, we were looking for a long position on EUR/CAD. This did hit our stop-loss, which is perfectly fine! Risk management is key, so when we lose we lose small. And when we win, we win big!
Written by Aqil – Head Analyst