Currencies:
The dollar has had a strong pullback after a big breakout to the upside last week. There is a lot of bearish momentum across the board with the dollar, and we won't be looking for longs until we see a significant slowdown. We are pushing into a potential area of interest where we could see a reaction, but as mentioned before we would need to see a significant rejection to look to long the dollar right now.  
The JPY has been moving sideways, consolidating in a range. Our bias of JPY upside is still valid; however we do need to see a break of 9200 to confirm the upside move.  
NFP is coming up on Friday, and recently we have noticed the week leading up to NFP is always a little weird – so hopefully we can see some clear direction off the back of NFP.  
Upcoming fundamental releases we have are: 
Wednesday, February 2nd 
USD, ADP Employment Change (Jan)

 

CAD, BoC's Governor Macklem speech

 
Thursday, February 3rd 
GBP, Bank of England Monetary Policy Report

 

GBP, BoE Asset Purchase Facility

 

GBP, BoE Interest Rate Decision

 

GBP, BoE MPC Vote Rate Cut

 

GBP, BoE MPC Vote Rate Hike

 

GBP, BoE MPC Vote Rate Unchanged

 

GBP, Monetary Policy Summary

 

GBP, BoE's Governor Bailey speech

 

EUR, ECB Deposit Rate Decision

 

EUR, ECB Interest Rate Decision

 

EUR, ECB Monetary Policy Decision Statement

 

EUR, ECB Press Conference

 

USD, ISM Services PMI(Jan)

 
Friday, February 4th 
AUD, RBA Monetary Policy Statement

 

EUR, Retail Sales (YoY)(Dec)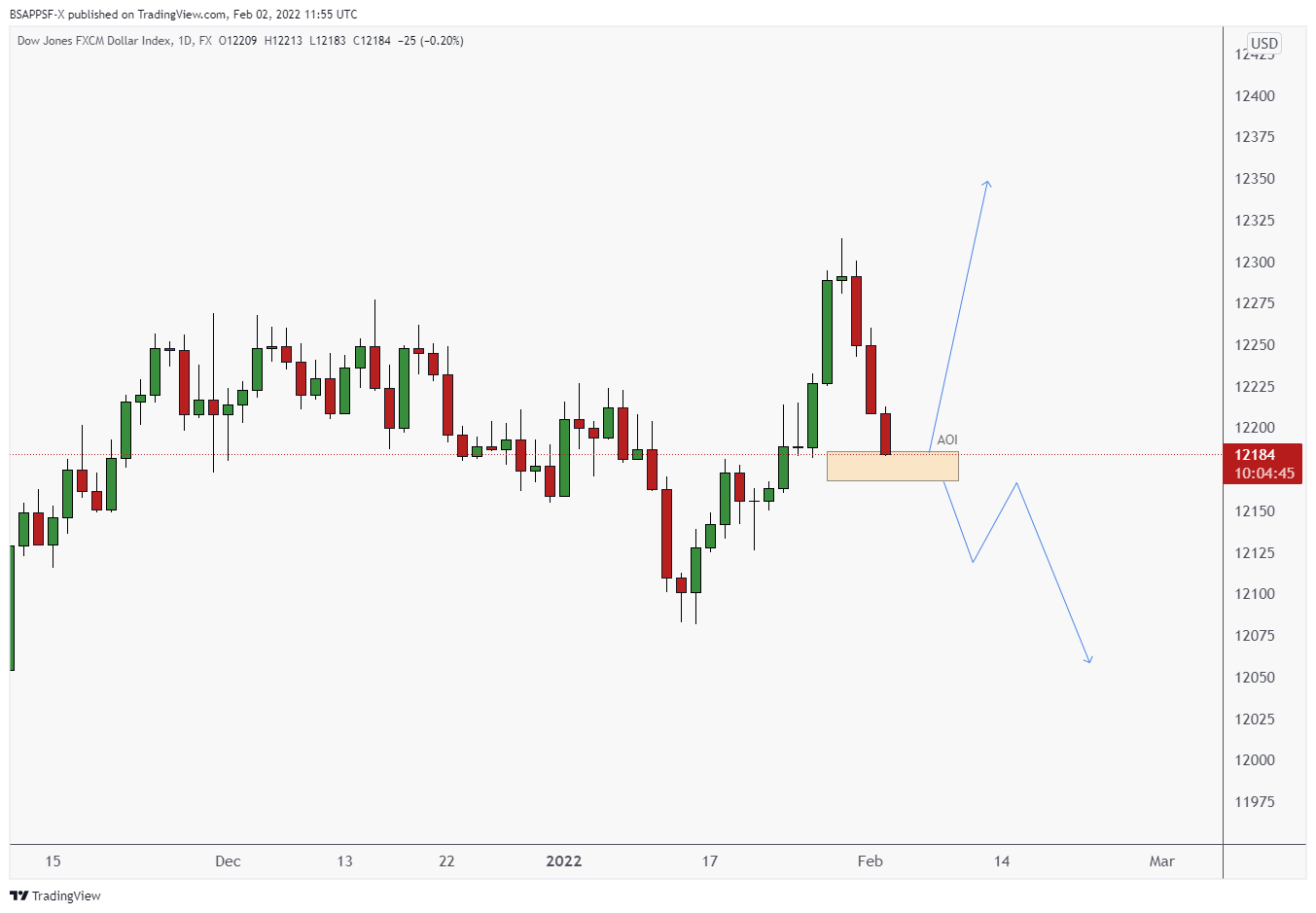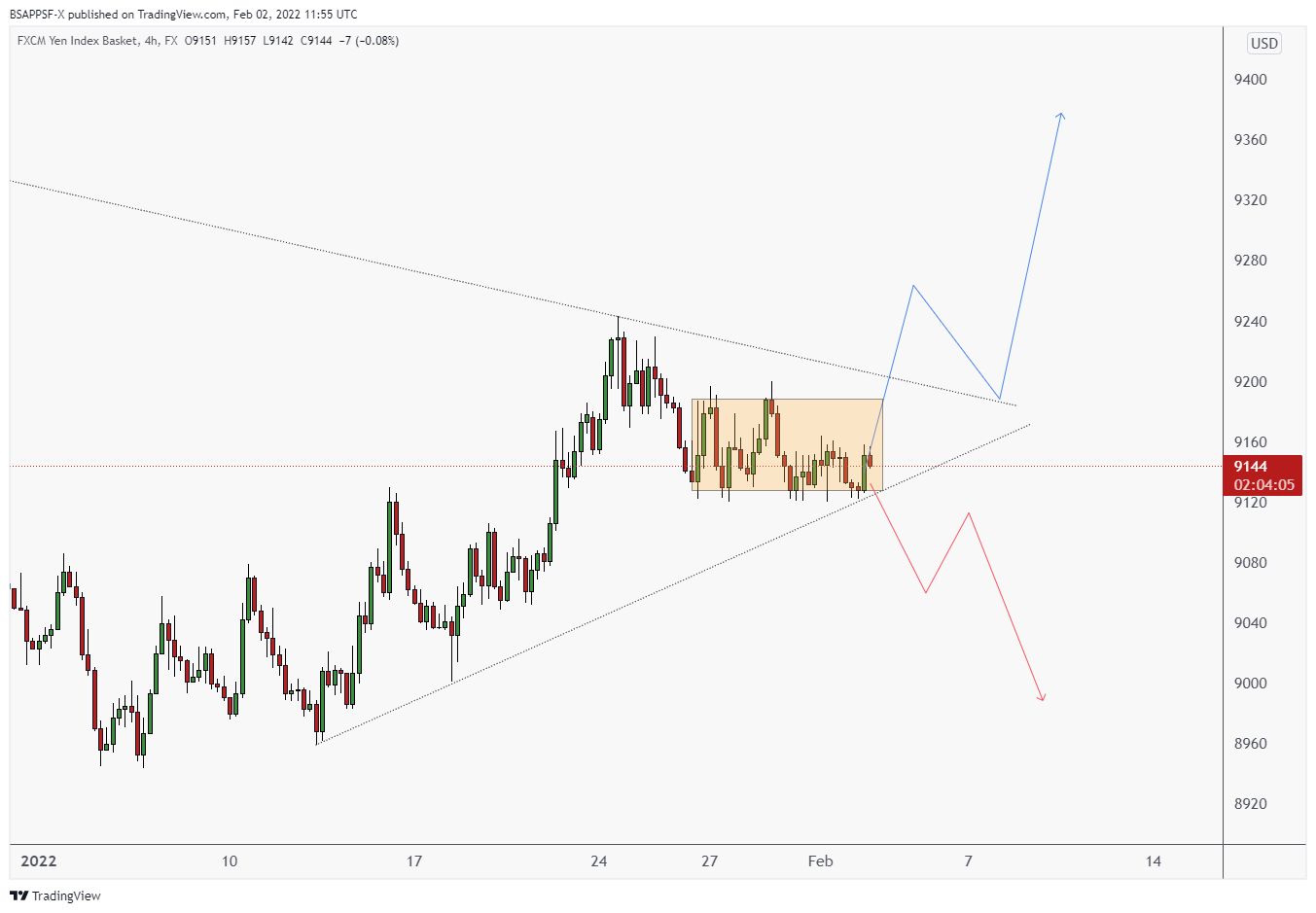 Traders Tips: 'Our Chaos Is Our Order'
Over the last week I have been reading a book by Steven Bartlett called 'Happy Sexy Millionaire: Unexpected Truths about Fulfilment, Love and Success' And from it there have been a lot of things that have heavily resonated with me. I recommend this book, and his podcast 'The diary of a CEO'. 
A quote from the book is: 
'An accomplished goal brings with it a loss of orientation and the risk of being swayed towards the chaos of purposelessness and psychological destabilisation. There is often discomfort in the act of striving for something – such as hard work, failure, rejection and fatigue – and we confuse this for chaos, but it's ironically the act of striving that keeps us stable. Paradoxically, our chaos is our order, and the happiness we're pursuing is the pursuit of happiness itself.' 
(When Steven talks about happiness, he is talking more about fulfilment than the actual emotion of happiness) 
The reason why this resonated so much is because when I think about the journey we are on, we often say to ourselves things like 'Once I get this funding then I will be happy' or 'Once I make 5 figures then I will feel good' and the list goes on and is never ending. But how often do we stop and appreciate the journey itself? We often beat ourselves up when we fail, like losing a trade or losing a funding challenge, but the act of this 'chaos' on the journey is a necessity and in those hard times we should try to appreciate the fact that this is not easy and that is what makes it fulfilling. How boring would it be if everything was easy? This concept is a paradox, seeking fulfilment in chaos but I believe it is a concept we should seek to implement within our lives. 
Now I am not saying that when you take a loss, you should feel happy and content – that's absurd. All I am saying is that if we can shift our perspective and take the approach of something like 'This is part of the journey, how can improve myself to overcome this obstacle', then we can learn to be happy (fulfilled) on the journey itself.  
Expecting to be happy once you reach a goal is crazy when you think about it because goal posts are always moving further away, and you will be chasing something which cannot be caught. 
This all sounds good in theory and makes a lot of sense. In practical terms though it is very difficult. Which is why it is okay to get emotional when you hit a bump in the road and have a setback – we are all human at the end of the day. As long as you put it into perspective afterwards, make the necessary adjustments and continue moving forward. 
This journey is a very difficult one, especially in trading where it seems like there is a constant battle within. However, perspective is needed always and seeking fulfilment on the journey itself is the key. 
Once of the goals I have this year, is to start enjoying the journey itself. Enjoy the trials and tribulations that will come my way. Last year I found myself feeling lost after hitting a goal, like more funding or monthly income target. By adopting this concept, I hope to combat this.  
Written by Aqil – Head Analyst